GC,GP Purrdelis' Sweet Scooter Pie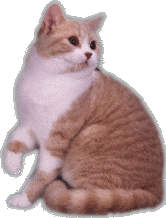 Please meet one of the latest additions to our breeding family, Scooter Pie. Scooter earned his name because he is just as sweet as an ice cream treat. He was born on August 14, 1999, to GC Purrdelis' Gettin Jiggy Wid it and GC, GP Belle-Luna's Cosmo's Moon. Scooter will be taking his daddy's place as one of our stud males. But until then, we will enjoy his babyhood. If you're in the Pacific Northwest and visiting one of our cat shows, you may see Scooter charming the socks of the judges. One look at his chubby cheeks and it's very difficult not to smile.
Click on the photos to view them full-size. Then use your browser's "Back" button to return to this page.
| | |
| --- | --- |
| Scooter is just 2 weeks old in the photos to the right. . . | |
| | Here is Scooter again at 6 weeks of age. . . |
| If there was ever a cuter kitten than Scooter, I haven't met him. Here is Scooter at 10 weeks of age. . . | |
| | |
| And here's our little star again at four months of age. . . | |
| | In these recent photos, Scooter is a rather impressive boy of two years of age. Quite the knockout! |
To see our other Purrdelis cats, click on the hyperlinks below. . .
[ Up ] [ Past News 1 ] [ B.K. ] [ Scooter Pie ] [ Past News 2 ]
You are visitor
to this web page.