KCDancers BK of Purrdelis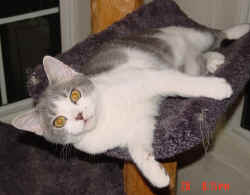 This little cutie is an American Shorthair named BK. He was born June 9, 2001. His color is called blue tabby and white. As you can see in the photos below, BK is rather spectacularly marked. He is a truly sweet soul who is very playful and affectionate.
BK came to us from Craig and Kathy Miller of KCDancers cattery in St. Helens, OR. They have been known for their very beautiful silver tabbies. But, luckily for us, they have recently branched out into many fabulous colors. They thought I would enjoy BK, and they knew I would fall in love with his color.
BK has just started his show career. He's not really sure that he enjoys all the fuss, but he is a sport, humoring his showbiz mommy.
Click on the photos to view them full-size. Then use your browser's "Back" button to return to this page.
BK is pictured above with Cal.
To visit the pages of other Purrdelis cats. . .
[ Up ] [ Past News 1 ] [ B.K. ] [ Scooter Pie ] [ Past News 2 ]