GC, GP, RW Purrdelis' Gettin Jiggy Wid It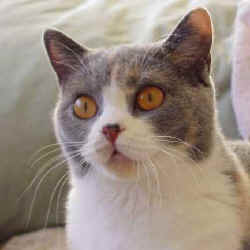 But you can call her Jiggy for short. Jiggy is a dilute calico female born July 17, 1998. You can probably tell by that birth date that she is the sister of Rudy. If it weren't for her color (dilute calicos are 99.9999% female), you would swear that Jiggy was a boy! She is very cobby, with a wonderful, plush coat. Now, if we could only tame her "tortie" temperament. Oh, she's not evil, just willful. In that wonderful way that only torties (and dilute calicos, it seems) can achieve! Jiggy's parents are Chauncey and Rory.
Jiggy attained the title of Grand Champion at only 9 months of age. She is the youngest cat to grand here at Purrdelis British Shorthairs. We are so proud of her -- and, so far, the success has not gone to her head!
During the 1999/2000 Show season, Jiggy earned three very distinguished honors. She became the 24th Best Cat in Championship and 2nd Best British Shorthair in the Northwest Region, and she also earned the title of 3rd Best British Shorthair Nationally.
Jiggy continued her success in the 2000/2001 show season by becoming a Grand Premier and then going on to become the 15th Best Cat in Premiership. Thanks for such a fun show year, Jiggy!
Click on the photos to view them full-size. Then use your browser's "Back" button to return to this page.
Here is Jiggy at the ripe old age of 4 months! Full of the devil! The photo on the right is of Jiggy with her brother Rolly, who now lives in Canada.

Here is Jiggy at 8 months old, and still a joker!

This is Jiggy at 11 months old. She's still quite the poser!

These photos were taken of Jiggy at 16 months of age. She's a little thin after raising her first litter of kittens.

Here's our beautiful girl again in October of 2001.

Jiggy's a little over 2 years old in these fun photos.

Note her predilection for water straight from the tap!
To visit the pages of other Purrdelis cats. . .
[ Up ] [ Chauncey ] [ Glory ] [ Jenny ] [ Jiggy ]

You are visitor
to this web page.