GC Purrdelis' Patty Cake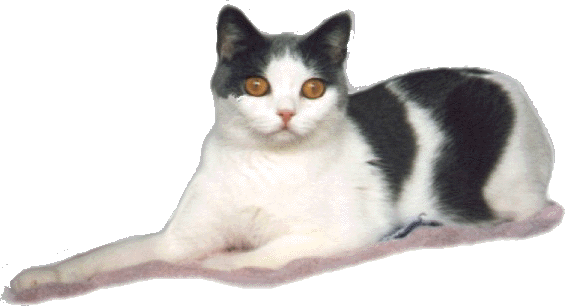 "Fall into my eyes. . ." We would like you to meet Patty Cake. She was a blue and white bi-color. Patty was born June 22, 1995, and left us Christmas Eve of 2001. She was a grand champion and one of the most natural mother in our breeding family. She took wonderful care of the beautiful kittens she brought to us, as well as many cuddles and headbonks when we needed comforting.
Patty is sorely missed everyday, by her human family as well as her sister, Jennyanydots.
Click on the photos to view them full-size. Then use your browser's "Back" button to return to this page.
Below is a photo of Patty doing what Patty did best!
To visit the pages of other Purrdelis cats who have traveled across the Rainbow bridge. . .
[ Up ] [ Barclay ] [ Big Mac ] [ George ] [ Jazz ] [ Patty Cake ] [ Pauline ] [ Red ] [ Rainbow Bridge ]
You are visitor
to this web page.