Truebrit Positively 1 4 the Money (of Purrdelis)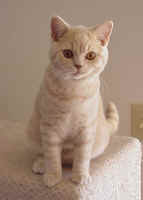 We called him Barclay for short -- or Sparky, because when the sun shone on his beautiful pale, cream spotted coat it would just sparkle.. Barclay was a sweet tempered boy who joined us from the Truebrit cattery in Bremerton, Washington. Barclay was born July 15, 1999, and left the world way to soon. We miss his wonderful spirit and gentle disposition.

Click on the photos below to view them full size. Then use your browser's "BACK" button to return to this page.
To see other memorable Purrdelis cats, click on the hyperlinks below. . .
[ Up ] [ Barclay ] [ Big Mac ] [ George ] [ Jazz ] [ Patty Cake ] [ Pauline ] [ Red ] [ Rainbow Bridge ]

You are visitor
to this web page.