Welcome to the World!
This page is to allow you to watch the kittens born to Jiggy and Cosmo. The babies came into the world on August 14, 1999. Jiggy delivered a blue and white male, three cream and white males and a blue female. Their tentative names are, respectively; Campbell, Oscar, Scooter Pie, Yorgy and Grizzly. They are still growing into their call names -- each one usually names him or herself during their growing-up time with us. Come back to this page to watch these babies grow!
We still have not decided which of these kittens will be available, and won't know for a while. So check back periodically for updates on their progress and potential availability if you are interested in them.

Photos have been added. Just click the kitten's pictures below to view their new photos!
The Proud Parents
Babies and momma Jiggy at 2 weeks of age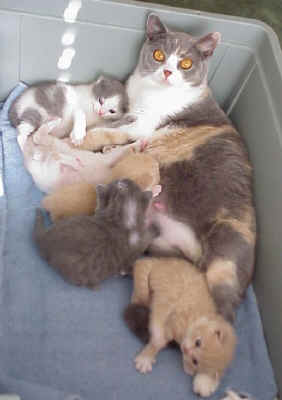 Click on the photos below to visit the babies' individual pages. . .