GC Caellcats Delilah of Purrdelis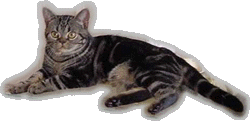 No, your eyes are not deceiving you. Delilah is not a British Shorthair. She was to be the foundation of our American Shorthair breeding program. She was born February 24, 2000.
Delilah came to us from Ann Caell who is a prominent breeder in San Jose, California. She is the result of a repeat breeding whose original produced her older brother, Caellcats California Dapper Dan, a double National winner in the 1999/2000 CFA Show season. We were so blessed to have Delilah in our midst!
Now Delilah lives with Kendall Smith in Puyallup, WA, to produce beautiful American Shorthair kittens for her Kenipurr cattery. At least she is still close to us, and we get frequent updates on her progress. Hopefully we will be seeing some of her beautiful kittens in the showrings soon!
Click on the photos to view them full-size. Then use your browser's "Back" button to return to this page.
| | |
| --- | --- |
| This is Delilah on the day she arrived at Purrdelis | |
| | Here is Delilah at 6 months of age. . . |
To see our other breeding cats, click on the hyperlinks below. . .

You are visitor
to this web page.